The LCB defined the criteria of a social equity plan in the finalized rules. Social equity goals are intended to reduce accumulated harm suffered by communities subjected to impacts from the historical application and enforcement of cannabis prohibition. A Social Equity Plan is required by law. 
Applicants will receive a copy of the Cannabis Social Equity Plan from the third party contractor, Ponder Diversity Group. The third party contractor will provide instructions on submitting this and other forms, as well as verifying documentation.
The Social Equity Plan must include at least one of the components below. On the Social Equity Plan form, you may select the pre-filled examples detailed below or write a brief description of your own ideas. 
A description of how issuing a cannabis retail licenses to you will meet your social equity goals

Collect donations for school supplies for underserved communities
Holiday adopt-a-family/child in need
Employee volunteer day event to make a difference in an underserved community
Your own idea

If you have a personal or family history with the criminal justice system including any offenses involving cannabis

Personal
Family
Additional

How your business plan involves partnerships or assistance to organizations with connection to communities that have been disproportionately impacted by cannabis prohibition

Non-perishable food drive
Partner with a local nonprofit for community strengthening project
Partner with employment agency to hire applicants with cannabis offenses
Promote hiring employees with prior offenses on website or premises
Your own idea
 
For additional training and guidance on developing and submitting your Social Equity Plan, sign up for the Technical Assistance Program to view lesson 5 in the Social Equity Program Education titled "How to Complete the Social Equity Plan."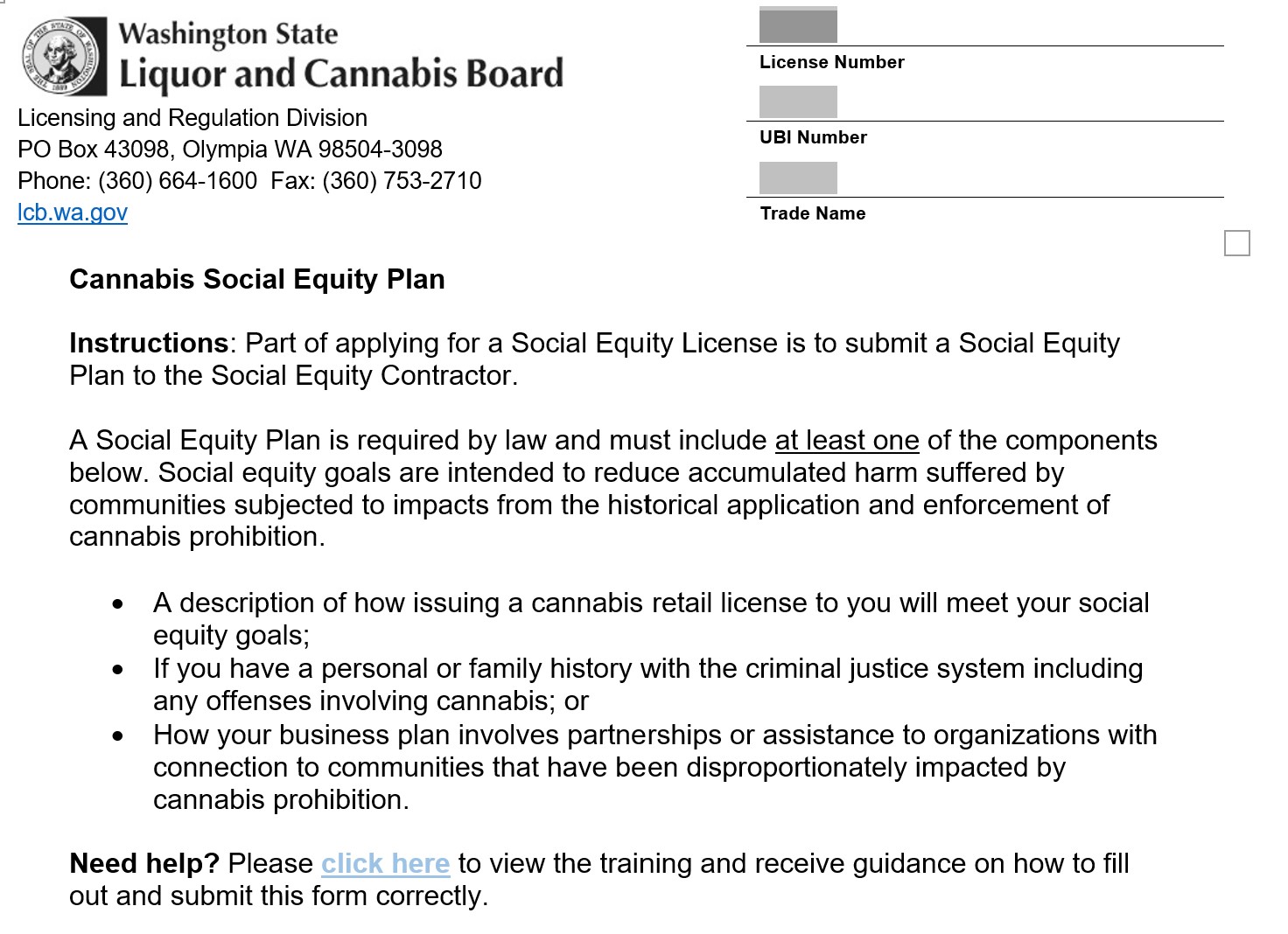 Example of the Social Equity Plan document that will be sent to applicants via Ponder Diversity Group